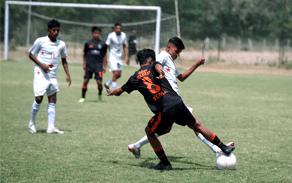 IKF conducts Trials in multiple cities across India with a view to scout exceptional talent. Kids scouted from these city trials are thoroughly assessed and qualified for Pre-Finals and then for National Finals. In National Finals we invite scouts from across the globe (specially from ISL & I League clubs) to select kids from the talent scouted by us via Pan India Trials.
Clubs who participated in IKF Trials
India Khelo Football kickstarted Season 1 on 16th January, 2021 from Chandigarh and covered 17 cities within 12 months. This was our first season and we went all out to create structured career path for kids via our Trials.
20 kids got selected by ISL & I League clubs
IKF has completed Season 2 - 40 city talent hunt in Feb 2023. The whole Trials went on for 7 months which saw 5000+ kids participate across India. 450 players were scouted from these 40 cities & villages of which 150 qualified to be part of Finals conducted on 18th Feb 2023. 25+ players were scouted by 16 clubs who were part of IKF S2 Finals.
IKF is coming back with Season 3 in May 2023. It will be a 50+ city talent hunt focused on scouting exceptional talent at U15 and U17 age categories for both boys & girls.